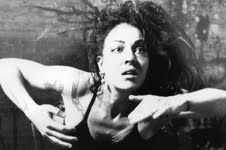 Asheville dance companies Anemone Dance Theater and Legacy Butoh will collaborate to host acclaimed Butoh artist and choreographer Vanessa Skantze for an artist residency in Asheville the week of August 5-12.
Highlights of the residency include:
"Listening to the Bones: The Body as Instrument and Offering"
a movement workshop and performance open to the public
When: Saturday, August 9, 2:00 – 5:00 pm
Where: Bebe Theater
20 Commerce Street
Asheville, NC 28801
Description: Creating a space of curiosity and trust while fostering intense physical/mental focus, the workshop will facilitate awareness of the concurrent structural and energetic alignment of the body; explore limits of flexibility and strength, speed and stillness, instability and ground; work in pairs to develop listening beyond the skin; and invoke imagery to be absorbed into the body–creating the offering of Butoh dance. Follow the workshop, a studio performance will feature workshop participants performing the newly created dance piece as well as Vanessa Skantze performing a solo set.
For more information or to register, email Sara Baird at info@anemonedance.org or call (646)522-2518. Suggested donation is $30.
"Radiant Poison"
During her residency, Vanessa Skantze will work with professional dancers to choreograph Radiant Poison, a dance that journeys through four gardens: origins, illusion, creation, and dissolution. Radiant Poison will premiere October 25 and 26 at Grove Park in Asheville as part of UWABE – Art in the Park, a free outdoor dance series funded in part by the Asheville Area Arts Council with support from Black Mountain College Museum + Arts Center.
Vanessa Skantze, a Butoh artist and teacher of yoga and dance, has performed in the U.S. and Europe for more than 20 years and is now based in Seattle. She co-founded the New Orleans sound/movement ensemble Death Posture and collaborates with renowned musicians such as Jarboe and percussionist Tatsuya Nakatani. Skantze has trained and performed with Jinen Butoh founder Atsushi Takenouchi, has created numerous ensemble works and solo pieces under the name Danse Perdue, and taught as part of Lydia Lunch's Post-Catastrophe Collaborative.
Anemone Dance Theater, under the artistic direction of Sara Baird, is influenced by the philosophy of Japanese Butoh Dance – a theatrical poetry of opposites, absurdities and unanticipated beauty. In addition to directing her own company, Baird has performed with the Butoh Rockettes directed by Celeste Hastings, Poppo & Gogo Boys, Richard Move for the Guggenheim Museum, VH1, and the Cannes Film Festival, and has toured the U.S., South America, and Europe. In 2007, Baird was chosen by master Akira Kasai to perform at The Japan Society in NYC for his commission, Butoh America.
Legacy Butoh was founded in 2005 by Julie Becton Gillum, an icon of the Asheville dance community who previously founded three modern dance companies. Gillum has been creating, performing, and teaching dance in the US, France, Cuba and Mexico for over 40 years. Since 1998, she has created and presented major Butoh pieces at a variety of venues in New York, Chicago, San Francisco and Mexico, along with producing the annual Asheville Butoh Festival. In 2009, she was awarded the prestigious Choreography Fellowship by the North Carolina Arts Council, which enabled her to travel to Japan to study with Butoh masters.
Sara Baird, Artistic Director of Anemone Dance Theater, and Julie Becton Gillum, Artistic Director of Legacy Butoh, are frequent collaborators, having choreographed and performed together at the Asheville Fringe Festival, as part of NC Stage's Catalyst Series, at Black Mountain College Museum + Art Center's Re-Happening, and at many Asheville street festivals.