Buy Tickets on Brown Paper Tickets.
The Asheville Butoh Festival is entering it's 13th season. It was established in 2000 by Julie Gillum and the Asheville Contemporary Dance Theatre and brings internationally renowned butoh artists to our region to educate through public workshops and performances for the Asheville community.
The festival is the longest running butoh festival in the US and has featured national and international dance artists. Artists such as: Diego Pinon (Mexico), Sheri Brown, Joan Laage, Vanessa Skantze (Seattle), Yumiko Yoshioka (Japan /Germany), Vangeline (New York) and Nicole LeGette (Chicago) have performed in downtown Asheville at the BeBe Theatre. In addition to Gillum, local butoh dancers Sara Baird, Jenni Cockrell, and Constance Humphries have made significant artistic contributions to this vibrant and growing festival through the years.
For the 13th Asheville Butoh Festival , in the spring of 2019,  we will be producing Yuko Kaseki and Mari Osanai and will include solo evening performances by Jenni Cockrell and Constance Humphries.
13th Asheville Butoh Festival Guest Artists

Yuko Kaseki is director, choreographer, Butoh dancer, performance artist, improviser and teacher, based in Berlin. She teaches and performs in solo and ensemble pieces and improvisations through out 26 countries. These works are poetic and vivid images that incorporate the spirit of Butoh, performance and live art. Her performance aims to reflect the outsider's existence. Various International collaborations include inkBoat (SF), Tableau Stations (SF), CAVE (NY), Poema Theatre (Moscow), Salad Theater (Seoul) and more. She is also a key collaborator with mixed ability artists including Theater Thikwa (Berlin).
www.cokaseki.com

Dancer, choreographer, teacher Mari Osanai has performed and taught in Japan, Canada, USA, Greece and Germany. Her workshops focus on Noguchi Taiso combined with the influences of her early training in Tai Chi, western dance methods, traditional folk dance in Aomori, Japan (her birthplace), and the connection between one's thoughts and sensation of weight. Osanai's approach to movement research and exploration begins with a heightened awareness of gravity's influence on the body and the body's connection with the center of the earth.
Performances
Constance Humphries: April 25, 8PM
Yuko Kaseki: April 26 & 27, 8PM
Jenni Cockrell: April 28, 8PM
Jenni Cockrell: May 2, 8PM
Mari Osanai: May 3 & 4, 8PM
Constance Humphries: May 5, 8PM
Workshops
Yuko Kaseki: April 27 & 28, 12-4PM
Mari Osanai: May 4 & 5, 12-4PM
BeBe Theatre
20 Commerce St, Asheville, NC 28801
Buy Tickets on Brown Paper Tickets.
Sign up for our newsletter and follow us on Facebook for upcoming details.
If you would like to support the festival, visit our support page.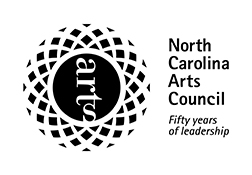 This project was supported by the N.C. Arts Council, a division of the Department of Natural & Cultural Resources. www.NCArts.org.
Thanks to the Asheville Area Arts Council for the 2019 GAP grant and our 13th Festival supporters: Ron and Linda Larsen, Edwin Salas, Carole McCurdy, J Gertz, Diana and Richard Brewster, and Bob Lyness.