TIME OUT CHICAGO
"BEST DANCE VISITS 2011"-
NEW YORK TIMES
"CAPTIVATING"
LOS ANGELES TIMES
"VANGELINE MOVES WITH THE CLOCKWORK DELIBERATION OF A PRACTICED JAPANESE BUTOH ARTIST"
JAPANCULTURENYC.ORG
"A TRIUMPH"
LEGACY BUTOH & ASHEVILLE CONTEMPORARY DANCE THEATRE To Present:
"WOMEN OF BUTOH"
9th Annual Asheville Butoh Festival
Legacy Butoh, in partnership with the Asheville Contemporary Dance Theatre, will present the 9th Annual Asheville Butoh Festival on Thursday, September 18 through Monday, September 22 at the BeBe Theatre in downtown Asheville.
The Festival, under the artistic direction of Julie Becton Gillum, will feature internationally renowned butoh choreographer and dancer Vangeline, along with solo works by Asheville dancers Jenni Cockrell, Susan Collard, Amy Hamilton, Megan Ransmeir, and Julia Taylor. Ticketed performances and workshops open to dancers of all skill levels will be offered.
"We're so fortunate to have Vangeline as the featured artist in the Asheville Butoh Festival this year," said Julie Gillum. "Vangeline believes that Butoh can be a vehicle for collective and individual transformation in the 21st century, and I'm eager for her to share her artistic vision, her extraordinary choreographic skills, and her mesmerizing performances, with Asheville dancers and audiences."
The unique art of butoh originated in post-World War II Japan as a reaction to the loss of identity caused by the westernization of Japanese culture, as well as a realization that ancient Japanese performing traditions no longer spoke to a contemporary audience. One of the major developments in contemporary dance in the latter half of the 20th century, butoh combines dance, theater, improvisation and influences of Japanese traditional performing arts to create a unique performing art form that is both controversial and universal in its expression.
***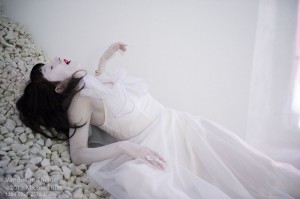 3 WORKSHOP DISCOUNT – $75 – If you sign up for all 3 workshops by September 15!
9th Annual Asheville Butoh Festival Schedule of Events:
***All events take place at the BeBe theatre, 20 commerce street, Asheville
Thursday, September 18
8:00 PM "WOMEN OF BUTOH"
$17 in advance; $20 at the door; Senior $12, Student $10
***
Friday, September 19
8:00 PM "WOMEN OF BUTOH"
$17 in advance; $20 at the door; Senior $12, Student $10
***
Saturday, September 20
11 AM – 2 PM Butoh Workshop with Vangeline
$30
8:00 PM "WOMEN OF BUTOH"
BeBe Theatre, 20 Commerce Street, Asheville
$17 in advance; $20 at the door; Senior $12, Student $10
***
Sunday, September 21
11 AM – 2 PM Butoh Workshop with Vangeline
BeBe Theatre, 20 Commerce Street, Asheville, $30
7:00 PM "WOMEN OF BUTOH"
BeBe Theatre, 20 Commerce Street, Asheville
$17 in advance; $20 at the door; Senior $12, Student $10
***
Monday, September 22
6 – 9 PM Butoh Workshop with Vangeline
BeBe Theatre, 20 Commerce Street, Asheville, $30
***
Advance and door tickets for all Festival performances and workshops may be purchased in person at the BeBe Theatre, located at 20 Commerce Street in downtown Asheville, or by calling the box office at 828-254-2621.
For updated information on the Festival schedule and artists, visit www.ashevillebutoh.com. For ticket information and box office hours, visit www.acdt.org or call 828-254-2621.
***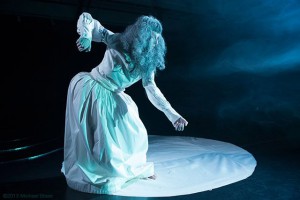 Butoh Dance Workshop with Vangeline
"Butoh can lead us back to our rebellions, our private wars, our wounded selves, and through this process brings what is hidden into the light. "The process is deeply healing and transformative. Shedding various masks and layers of conditioning leads to more honesty. When we are stripped of our defenses, we can offer our best. We become capable of intimacy and humanity." ~Vangeline
This Butoh workshop creates a supportive environment to start an individual and collective process of investigation through creative movement. Participants start a spiritual and energetic journey to express, heal and transform hidden aspects of themselves. The work incorporates Japanese Butoh techniques, guided imagery, bio-energetics, core energetics, creative movement, improvisation, release techniques, elements of Noguchi gymnastics. This unique training is an invaluable tool for dancers, actors, adult beginners, encouraging participants to open up and expand physically and energetically.
*All levels and complete beginners are welcome.
***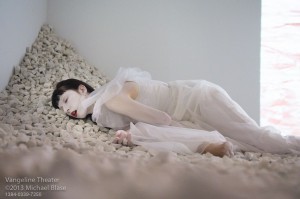 Featured Artist: Vangeline
After 15 sold out shows at the Avignon Festival in July 2014, Vangeline is delighted to perform her solo FIFTH OF BEETHOVEN-Admiring Tatsumi Hijikata" in Asheville.
Beethoven meets Butoh as Vangeline's performance conjures up the ghosts of two passionate giants who left us with an immeasurable legacy.
Tatsumi Hijikata's costume worn for his last public solo performance in 1968 (is inspiration for Vangeline's costume created by New York designer Todd Thomas (Katie Perry Prismatic Tour).
***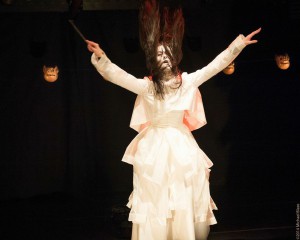 "Fifth of Beethoven – Admiring Tatsumi Hijikata"
***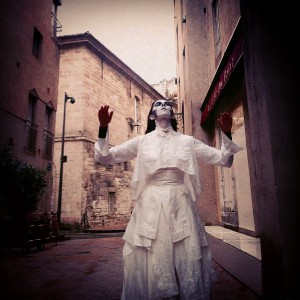 Vangeline is a teacher, dancer, and choreographer specializing in the Japanese postwar avant-garde movement form Butoh. She is the Artistic Director of the Vangeline Theater (NYC), a dance company firmly rooted in the tradition of Japanese Butoh while carrying it into the 21st century. She was born in Bourgogne, France and moved to New York in 1993.
Vangeline's choreographic work spans performance on stage and in film and has been performed throughout the US for the past 10 years. Her work has been heralded in publications such as the New York Times, Los Angeles Times, and LA Weekly to name a few. Time OUT Chicago named Vangeline's, "one of the best Dance Visits of 2011."
Since its inception in 2002, the Vangeline Theater has fused the post-apocalyptic vision of Butoh with the aesthetics of 21st century film noir. The Company's unique style, which might be described as "butoh meets film noir," is informed by Vangeline's extensive training with Butoh Masters, including Tetsuro Fukuhara, Yoshito Ohno, Yumiko Yoshioka, Diego Pinon and Katsura Kan, as well as performing Butoh solo on stage and film.
Vangeline's critically acclaimed choreographed works have been presented in New York at Joyce SoHo, White Wave, the New Museum, Dance Theater Workshop, PS122 Performance Space, and Abrons Arts Center. She was the recipient of a six-month artist residency at PS122 Performance Space ("New, New Stuff"); since 2006 she has received prestigious awards from the Puffin Foundation, the Japan Foundation, the New York Department of Cultural Affairs, the New York Foundation for the Arts, the Asian American Arts Alliance, Brooklyn Arts Council, and the Robert Friedman Foundation.
She is the founder of the 7-year running, award-winning program "The Dream a Dream Project", which brings Butoh dance to incarcerated men and women at correctional facilities across New York City.
Also active in film and theatre, Vangeline performed the critically acclaimed role of the ghost of Elizabeth Short (the "Black Dahlia") in the 2011 Los Angeles production of 'The Chanteuse and the Devil's Muse.' directed by David J (Bauhaus). The Los Angeles press unanimously praised her Butoh performance. THEATER IN LA selected her performance as one of the best 2011 performances in Los Angeles.
Recent film projects include a starring role alongside actors James Franco and Winona Ryder in the feature film by director Jay Anania, 'The Letter (2012-Lionsgate). Vangeline is currently in collaboration with the Marina Abromovic Institute and Neuroscientist Suzanne Dikker, exploring the intersection of Butoh and Neuroscience.
***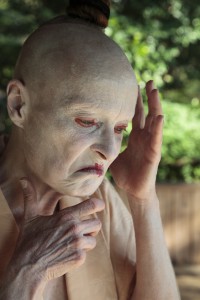 Artistic Director: Julie Becton Gillum
photography by Kosuke Mori
****
www.vangeline.com–
www.ashevillebutoh.com
www.vangeline.com
www.vimeo.com/vangeline
www.facebook.com/vangelinetheater
@vangelinebutoh on twitter