After teaching class, Yoshito, son of butoh founder Kazuo Ohno, often dances with a puppet of Kazuo, to the music of Elvis. It is really a treat!
On Saturday night we danced a requiem for Pina Bausch, avant garde German choreographer and dear friend of the Ohnos, who died on Friday June 26. We danced about strength and delicacy to "Amazing Grace" and "Ave Maria." There were students from Brazil, Thailand, Israel, Japan and the US. It was quite powerful!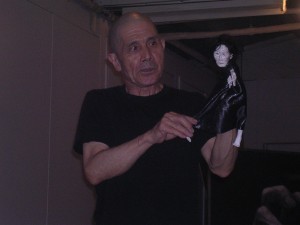 Kazuo has a generous and warm personality. Because he was in the first ankoku butoh performance when he was 14 he has been present for the entire history of the genre.  His classes are filled with quotes and stories about Hijikata and Kazuo.