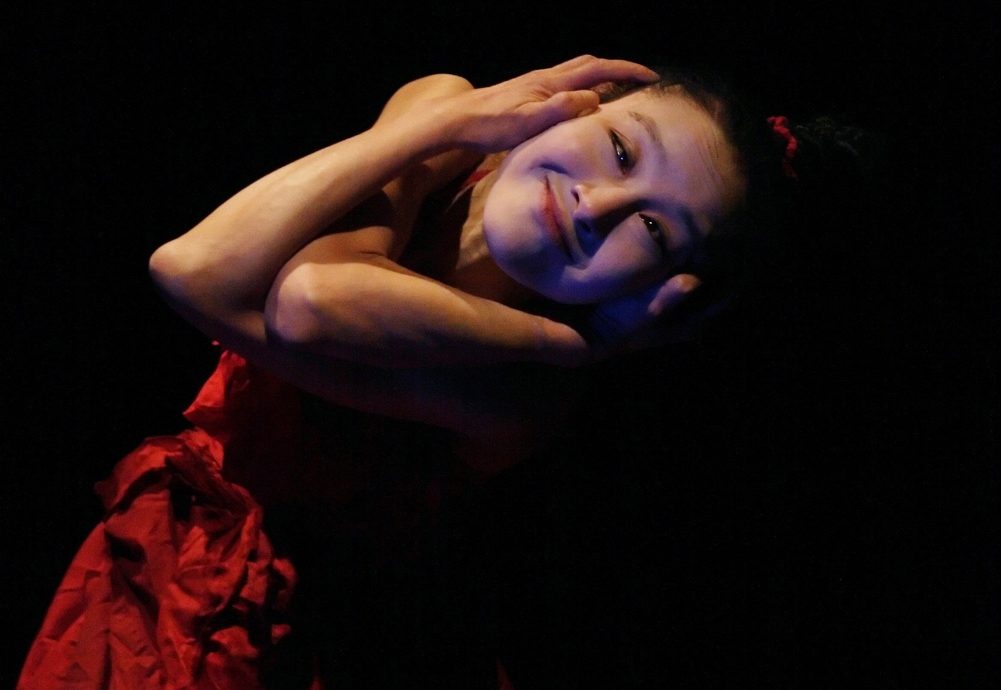 The 10th Asheville Butoh Festival
April 7-10, 2016
BeBe Theatre, 20 Commerce Street, Asheville, NC
SCHEDULE OF EVENTS
Thursday/Friday, April 7th & 8th – 7:30 pm
Before The Dawn created and performed by Yumiko Yoshioka
General Admission $18, Students and Seniors $15
*This event was generously funded by
Derek Dominy & Denise Carbonell @ The Cotton Mill Studios
Saturday/Sunday, April 9th & 10th – 1:00-5:00 pm
Workshops by Yumiko Yoshioka $40;  $75 for both
Saturday, April 9th – 7:30 pm
Local Color, Asheville's own butoh crew: Sara Baird, Julie B Gillum,
Constance Humphries, and Julia Taylor
With composers: Elisa Faires and Meghan Mulhearn
General Admission $18, Students and Seniors $15
Sunday, April 10th – 7:30 pm
strange daughters, an evening of solos by Jenni Cockrell 
General Admission $18, Students and Seniors $15
Reservations: BeBe Theatre 828 254 2621
Box Office hours: M – F, 3:00 – 6:00 pm
Produced by Julie Gillum and Asheville Contemporary Dance Theater
Asheville Butoh Festival on Facebook
 2016 marks the 10th Asheville Butoh Festival and twenty years of butoh dance in Asheville. Julie Becton Gillum and the Asheville Contemporary Dance Theatre have collaborated to produce this uncommon festival. For Asheville Butoh's landmark year, we have invited Yumiko Yoshioka, world renowned butoh performer and teacher to share her talents with us. Cities such as Portland, San Francisco, Vancouver, Montreal, New York, Chicago, and Asheville are havens for butoh dance, still finding itself in North America.
In honor of our 10th anniversary we have asked Yumiko to perform her seminal work Before the Dawn, a piece that represents butoh at its most profound level of movement exploration and philosophical inquiry. In this evening length epic, Yumiko Yoshioka, through her own transformation, illuminates secrets in our bodies. Her movement and gestures, execute a divine incantation in which she invites the sublime and monstrous beings from dreams and nightmares to dance with her. Her performances will be Thursday April 7 and Friday April 8 at 7:30 PM.
Yumiko will teach two butoh and organic movement workshops on Saturday April 9 and Sunday April 10, 1:00 – 5:00 PM. Cost is $40 for each workshop or $75 for both. The body is a receptacle of time. Body Resonance is a key to open the ever changing world inside and outside of us. The body unfolds its secrets, holding them up until they reverberate within the surrounding Universe. A dance of metamorphosis inevitably appears. One step to metamorphosis! All levels are welcome to this 8 hour corporeal feast. Performances and workshops take place at the BeBe Theatre, 20 Commerce Street in downtown Asheville.
Local contemporary butoh will feature prominently in the Asheville Butoh Festival. Performances by Sara Baird, Jenni Cockrell, Constance Humphries, and Julia Taylor will highlight this year's anniversary show. Composers Elisa Faires and Meg Mulhearn will make spotlight appearances to accompany in the Local Color show.
Butoh originated in post-WWII Japan as an artistic reaction to the chaotic climate in the country following the war and the uneasy shift towards democratic values. Butoh dance is a postmodern movement in which formal dance technique is eschewed in favor of primal and idiosyncratic movements. Butoh was born from an amalgamation of influences including the German Expressionistic dances of Mary Wigman and Harold Kreutzberg, western writers Genet, Artaud and de Sade, and the artistic movements of Surrealism and Dada. Butoh uses the body brazenly, in its most corporeal state, as a battleground to attain personal, social, or political transformations. Butoh dance challenges convention and avoids definition in order to reveal the fervent beauty of the unique human spirit.
Dancer, choreographer, teacher, art director, Yumiko Yoshioka was born in Tokyo, and has been residing in Germany since 1988. In the early seventies and eighties, she was a member of the first women's Butoh dance company, ARIADONE. In 1978, she performed with Ko Murobushi and Carlotta Ikeda in Paris, in the first Butoh performance outside of Japan. She was also a member of tatoeba
-
THEATRE 
DANSE
 GROTESQUE with Minako Seki and delta RA'i.
Yumiko's art-formation group TEN
 PEN
 CHii
 
art
 labor
, is a collaborative company residing at Schloss Broellin in northeastern Germany. Here, Yumiko researches the interactivity between dance, space, and visual art, exploring new zones in body works and performing arts.
Besides international tours throughout Asia, Europe, Oceania and North /South America, Yumiko, in collaboration with delta RA' i, directs eX…it !, Dance Exchange Research Project. Since 1995, more than 100 artists and dance students from all over the world have participated in this exciting festival of contemporary butoh.
---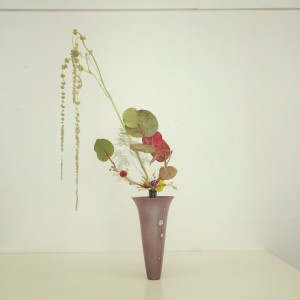 We are pleased to announce that Emiko Suzuki and the WNC Japanese Culture Center will provide lovely ikebana arrangements that will be up for silent auction at every performance. These beautiful floral gifts will help to support the Asheville Butoh Festival as well as introduce Emiko and Japanese culture to Asheville audiences.
WNC Japanese Culture Center at 629 5th Avenue West in downtown Hendersonville, is a dream venue of Manabu and Emiko Suzuki who are originally from Japan. They wish to share their native culture by teaching Origami, Japanese songs, Ikebana (traditional flower arrangement) and the tea ceremony ritual. The center shows Japanese films and provides gallery space for art related to Japanese culture. Emiko is an advisor of Ikenobo Ikebana Society (Blue Ridge Chapter) and Ikebana International (Asheville Chapter.) Ikebana and the tea ceremony are traditional Japanese art forms whose ritual and aesthetic have been transferred generation by generation for more than 500 years in Japan. Emiko has been studying these traditions for over 30 years.
For more information or to register for classes contact Emiko Suzuki, director of WNCJCC at IkenoboHVL@gmail.com