Adventurous audiences are in for a treat! The ASHEVILLE BUTOH FESTIVAL, produced by the Asheville Contemporary Dance Theatre and Legacy Butoh will bring provocative performances and engaging workshops by prominent American butoh artists from Chicago and Seattle as well as works by local professional dancers. Chicago-based artist Nicole LeGette (Blushing Poppy) as well as Vanessa Skantze and Alex Ruhe (Danse Perdue) in Seattle will be featured. Both companies are celebrating their 10th anniversaries this year. The BeBe Theatre at 20 Commerce Street will host performances at 8:00 PM Thursday through Sunday, June 14 – 18. Cost for these shows is $15 (in advance) for general audiences and $10 for Seniors and Students; at the door, tickets are $17 and $12 respectively.June 14 – 18 BeBe Theatre 20 Commerce Street and other downtown Asheville locations
SCHEDULE OF EVENTS:
FOUR BEBE THEATRE PERFORMANCES
TIME: 8:00 PM Thursday thru Sunday June 14 – 17
PLACE: 20 Commerce Street
COST: In Advance – $15 (general), $10 (Seniors, Students); At the Door – $17, $12
THREE WORKSHOPS WITH GUEST ARTISTS AT BEBE THEATRE
#1: Workshop with Vanessa Skantze
WHERE: Bebe Theatre, 20 Commerce Street
TIME: 1:00 – 4:00 PM Saturday June16
COST: $30; $25 (if registered by June 1)
#2: Workshop with Nicole LeGette
WHERE:BeBe Theatre, 20 Commerce Street
TIME: 1:00 – 4:00 PM Sunday June 17
COST: $30; $25 (if registered by June 1)
#3: Workshop with Alex Ruhe
WHERE: BeBe Theatre, 20 Commerce Street
TIME: 6:00 – 9:00 PM June 18
COST: $30; $25 (if registered by June 1)
FOUR FREE DOWNTOWN ASHEVILLE STREET PERFORMANCES
# 1: "Excursus" performed by Anemone Dance Theatre & Legacy Butoh
WHERE: Pack Place Park
TIME: 6:00 PM Thursday June 14
# 2: Julie Becton Gillum
WHERE: Wall Street @ the staircase
TIME: 6:00 PM Friday June 15
#3: Valeria Watson-Doost
WHERE: Corner of Eagle and Market, in front of the YMI
TIME: 6:00 PM Saturday June 16
#4: Jenni Cockrell
WHERE: Pritchard Park
TIME: 6:00 PM Sunday June 17
ASHEVILLE BUTOH FESTIVAL will sponsor three exciting workshops by the guest artists at the BeBe Theatre. "Deep Listening" a Butoh workshop with Vanessa Skantze will be offered on Saturday June 16, 1:00 – 4:00 PM. On Sunday June 17, 1:00 – 4:00, Nicole LeGette will present "Taxonomy of Transformation." Asheville Butoh Festival will conclude with Alex Ruhe's workshop on Monday 6:00 – 9:00 PM. Cost for each workshop is $30. There is a FULL festival package which includes all three workshops and 4 tickets to performances of your choice for $125. Four-ticket PERFORMANCE ONLY packages are available for $40. What a deal, live performance for $10 a show! It's better than the movies.
Free performances featuring local dancers will take place on the streets of downtown Asheville at 6:00 PM each evening. "Excursus," performed by Anemone Dance Theatre and Legacy Butoh will open the Asheville Butoh Festival at Pack Place Park. Julie Becton Gillum will perform on the staircase on Wall Street on Friday June 15. On Saturday an offering by Valeria Watson-Doost will take place at Eagle and Market Streets by the YMI. Jenni Cockrell will perform at Pritchard Park on Sunday June 17.
Nicole LeGette, a maverick of Chicago's dance and performance art scene, is dedicated to performing, presenting, and teaching butoh. She created Blushing Poppy Productions to encompass these endeavors. Nicole has trained extensively with master butoh artists in Japan, Mexico, Canada,and the US including Yoshito Ohno, Natsu Nakajima, and Diego Pinon. She has received numerous grants from the Chicago Department of Cultural Affairs. As a solo performer, LeGette has presented work throughout the US, Mexico, Indonesia and Japan.
"I consider myself a body theorist and practitioner whose concern is with the dilemma we encounter as beings possessing both spirit and body. I seek to illuminate a culture more responsive to body consciousness and use dance as the most direct means to confront this personal/social/political rebellion." Nicole LeGette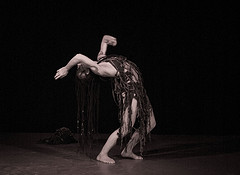 In 2002, Vanessa Skantze and Alex Ruhe founded Danse Perdue (lost dance) a performance arts company with projects rooted in the exploration of internal, physical, millennial and universal crises. Danse Perdue aesthetics incorporates classical arts and outlaw arts, drawing inspiration from mental and social illnesses as well as psychological and transgressive literature. Joy Von Spain, an accomplished vocalist and instrumentalist will accompany Dance Perdue in the Asheville Butoh Festival performances. Danse Perdue has toured their intimate collaborations between bodies and sound in the United States and Europe. Their work reflects uncertainty and inevitability; the ambiguities of nature, philosophy, and ethics. Vanessa and Alex have trained and performed extensively with Jinen Butoh founder Atsushi Takenouchi since 2003.
. . . to seek to become an empathetic bridge, to offer the body to this tremendous life force habitually not seen and not appreciated. To dance as one crow, one sibyl, one outcast, one disappeared creature is to vibrate one-to-one with each being who witnesses, to allow them a space to experience: I am this creature, this creature is me." Vanessa Skantze
For tickets or information about the Asheville Butoh Festival, please check out our websites at http://www.acdt.org and http://www.ashevillebutoh.com or call 828 254 2621.