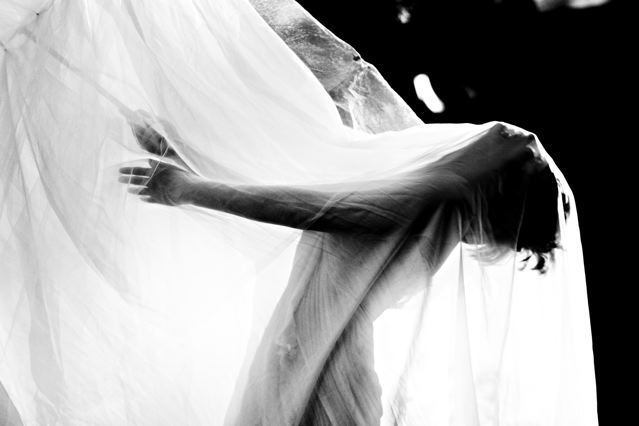 Anemone Dance Theater and Legacy Butoh
in association with North Carolina Stage Company's Catalyst Series present an evening of butoh dance
Yugen
June 23, 24, 25 and June 30, July 1 & 2, 2011
7pm pre-show at 15 Stage Lane and 7:30 curtain
Anemone Dance Theater and Legacy Butoh, in association with North Carolina Stage Company's Catalyst Series, present Yugen; an evening of butoh dance. The performance runs for two weekends – June 23, 24, 25 and June 30, July 1 & 2, 2011 at North Carolina Stage Company located at 15 Stage Lane Asheville, NC with a 7pm pre-show in Stage Lane and 7:30 curtain.
"Sara Baird, choreographer and Anemone Dance Theater's artistic director, is Odysseus's sea Siren, mesmerizing us with her spell of pure beauty."- June Juilian, NY Arts Magazine
"Luscious" – Jennifer Dunning, New York Times
Sara Baird, artistic director of Anemone Dance Theater and Julie Becton Gillum, artistic director of Legacy Butoh premiere Yugen – an evening of experimental butoh dance. Sara Baird relocated her dance company Anemone Dance Theater from New York City and teamed up with Julie Becton Gillum of Asheville's own Legacy Butoh two years ago. Yugen is the result of their unique artistic relationship.
Butoh originated in post-WWII Japan and is a postmodern movement in which formal dance technique is eschewed in favor of idiosyncratic movements. Butoh was born from many influences: the German expressionistic dances of Mary Wigman, western writers Genet, Artaud, and de Sade, and the artistic movements of Surrealism and Dada. Butoh uses the body brazenly to attain personal, social, or political transformations and to challenge convention to reveal the fervent beauty of the unique human spirit.
Joining Yugen are the talented and virtuosic performers John Crutchfield, Jenni Cockrell, and Julia Taylor with musicians Chandra Shukla, Elisa Faires, and Kimathi Moore. The "Procession of Bones" pre-show travels down Stage Lane while creating live music and dance from 7-7:30pm. Once inside, the performance unfolds like a dreamscape with each dance creating it's own unique world; bizarre and beautiful – arresting and startling. Yugen refers to a concept in traditional Japanese aesthetics which means "a profound, mysterious sense of the beauty of the universe… and the sad beauty of human suffering."
A butoh photography exhibit by Wesley Photography is on display in the lobby of North Carolina Stage Company in conjunction with the Yugen performances and received support from the North Carolina Arts Council – Regional Arts Program Grant, Black Mountain College Museum and Arts Center, and generous personal donors.
Press photos and additional information is located at www.anemonedance.org
Photo credits: Wesley Photography