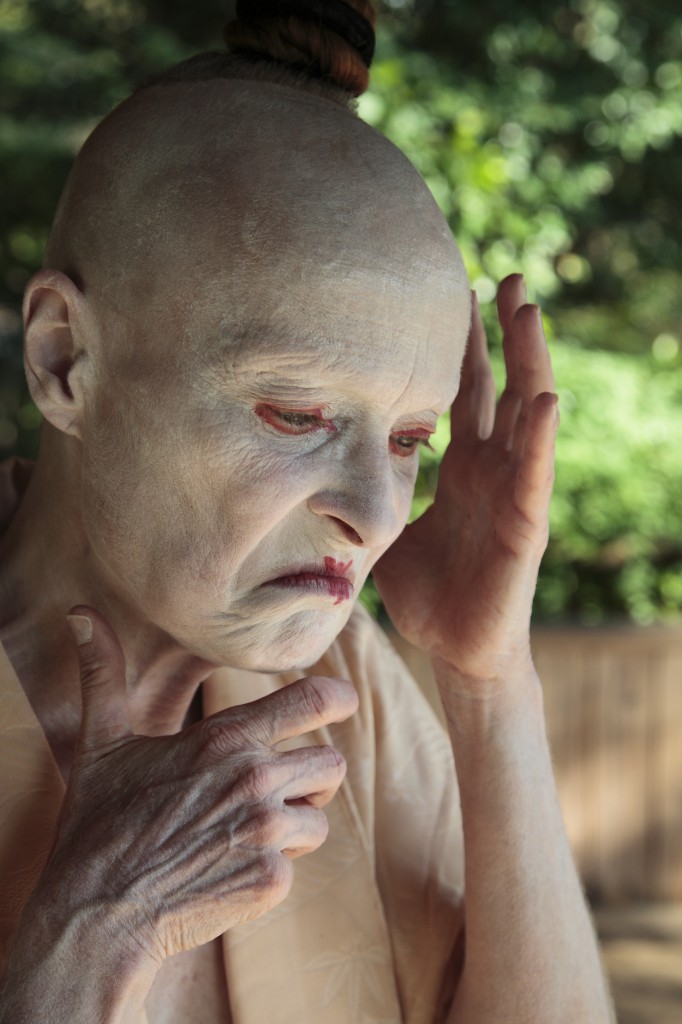 Dear Friends,
This is to let you know about a very exciting upcoming event in the Asheville arts community. In light of recent disasters such as in Japan, Haiti, and Pakistan, a portion of the proceeds from this event will be donated to The Red Cross and Doctors without Borders. Hope you can participate.
Sincerely,
Julie Becton Gillum
Press Release for April Fools Butoh Festival
What? 3 BUTOH Performances
When? Friday & Saturday, April 1, 2, 2011 @ 7:30
Sunday April 3 @ 6:00 PM
Where? BeBe Theatre, 20 Commerce Street, downtown Asheville
Who? Seattle Dancers: Sheri Brown, Maureen "momo" Freehill
Local Dancers: Julie B. Gillum, Sara Baird, Megan Ransmeier,
Lucas Baumann, Andrew Braddock, Melissa McKee, Jenni Cockrell
How Much? In Advance – $15 (general), $10 (Seniors, Students)
At the Door – $17, $12
***
What? 3 BUTOH Workshops
When /Who? Saturday April 2, 1:00-4:00, Julie Gillum (Asheville)
Sunday April 3, 1:00-4:00, Sheri Brown (Seattle)
Monday April 4, 6:00-9:00 -"momo" Freehill (Seattle)
Where? BeBe Theatre, New Studio Of Dance,
20 Commerce Street, downtown Asheville
How Much? $50 per single workshop
$90 for all 3 workshops (9 hours!)
Get ready for the "APRIL FOOLS BUTOH FESTIVAL" Produced by the Asheville Contemporary Dance Theatre and Legacy Butoh, the festival will feature guest artists Sheri Brown and Maureen "momo" Freehill from the Seattle area as well as Asheville dancers in a smorgasbord of workshops and performances at the infamous BeBe Theatre, 20 Commerce Street in downtown Asheville. Performances are Friday April 1 and Saturday April 2 at 7:30 PM with a Sunday April 3 show at 6:00 PM. For tickets or information, please check out our websites at http://www.acdt.org/ and http://www.ashevillebutoh.com/ or call 828 254 2621.
Butoh originated in post-WWII Japan as an artistic reaction to the chaotic climate in the country following the war and the uneasy shift towards democratic values. Butoh dance is a postmodern m movement in which formal dance technique is eschewed in favor of primal and idiosyncratic movements. Butoh was born from an amalgamation of influences including the German expressionistic dances of Mary Wigman and Harold Krautzberg, western writers such as Genet, Artaud and de Sade, and the artistic movements of Surrealism and Dada. Butoh uses the body brazenly, in its most corporeal state, as a battleground to attain personal, social, or political transformations. Butoh dance challenges convention and avoids definition in order to reveal the fervent beauty of the unique human spirit. The "APRIL FOOLS BUTOH FESTIVAL" gives the Asheville community a rare opportunity to see a broad spectrum butoh dance performed by seasoned professionals as well as emerging artists in the field.
Sheri Brown met butoh in 2000, after 11 years of theatre and street performance and never looked back. She has studied with butoh masters Katsura Kan, Diego Pinon, Akira Kasai, Natsu Nakajima, and Yoshito Ohno to name a few. Brown collaborates with artists from all disciplines and has received numerous grants and awards for her artistic work, both regionally in the NW and internationally. Brown serves as the Artistic & Programs Director of Seattle-based DAIPANbutoh (www.daipanbutoh.com), an organization dedicated to strengthening the presence of Butoh in the Northwest, through producing performances and workshops for and by local, regional and international artists. And when she has time she tours as a solo performer and teaches butoh workshops.
Brown will perform "Ainsi Soit-Il" ("Amen") a solo incorporating aspects of mother, father, dreams, and the subconscious. "Ainsi Soit-Il" means "Amen" or "So be it" in French. "Rivers of Industry" is work-in-progress informed by butoh-fu (movement vocabulary) created by the Vangeline Theatre in NYC, recent travel to Bangkok, and collaborative fusion with Alan Sutherland from Seattle, and Asheville's own Megan Ransmeier, "Rivers " will be performed by Ransmeier and Andrew Braddock.
Performing Sunday only, Maureen "momo" Freehill, is Artistic Director of MomoButoh International Dance Company; based in Seattle area, with 30 years experience as performer, educator & director of body-based practice & performance. She holds an MFA from U of Hawaii & Certifications in Yoga, Hypnotherapy & Dance Therapy. Momo danced for 5 years with Kazuo and Yoshito Ohno in Japan. Momo will perform "Flower Child" about babies, bees and her New Haven child-hood memories of protests and socio-cultural experiments during the 60s and 70s. In addition, Freehill will be joined by Sheri Brown for a duet in Sunday's performance ONLY.
For those of you who want to learn more about the delicious enigma that is BUTOH, there are three tasty workshops offered during "April Fools Butoh Festival." On Saturday April 2, 1:00-4:00 PM, Julie B Gillum will offer material from her recent work in Japan with Seisaku, a Yoko Ashikawa disciple. Sheri Brown's workshop, Sunday April 3, 1:00-4:00 PM will focus on searching for the eternal presence of pure force beyond the civilizations of Capitalism, Socialism, Westernization, and Modernization. On Monday April 4, 6:00-9:00 PM, Momo's workshop incorporates Poetry, Visual Art, Music and Dance to evoke our soul's deepest "Callings" toward an artful Life. All of these exciting workshops taught by professionals whose total combined years of experience falls just short of 100, can be had for the same price $90 . . . or $50 for a single workshop.
www.ashevillebutoh.com
www.acdt.org
http://momobutoh.net/